Natural hazards and climate change. A pandemic and novel diseases. Conflict and forced displacement. Food insecurity and famine.
Well into the third decade of the 21st century, the need for robust, responsive, standards-based disaster and emergency medicine has never been greater as the issues faced become more complex and increasingly vexing. Emergencies and disasters continue to impact large portions of humanity, resulting in significant individual, cultural, economic, and societal burdens on health and wellness.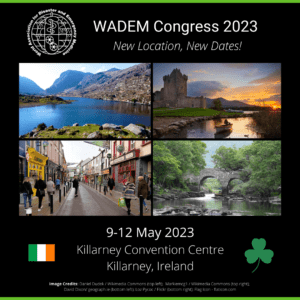 The crises of the past few years, from the coronavirus pandemic to refugees fleeing war to extreme weather conditions, have altered people's lives around the globe. Events such as WADEM's biennial international Congress are no exception. The Tokyo Congress scheduled for 2021 was postponed to 2025 due to the pandemic. Next year's Congress in Dublin had to be changed as the planned venue was recently contracted by the Irish government to house refugees fleeing the conflict in Ukraine. Space and availability constraints resulted in the Congress being relocated within Ireland.
In 2023, you can join WADEM Congress in the beautiful Killarney Region. It will be the first in-person Congress in four years hosted by WADEM! The theme is "Complexity and Continuity: Caring, Coping, and Overcoming in an Increasingly Challenging World." This will be the 22nd edition of the WADEM Congress, a meeting that brings together global experts to exchange knowledge and best practices on emergency medicine, prehospital care, and the health aspects of disaster management and humanitarian aid.
Nestled in County Kerry in Ireland's southwest, Killarney will provide an excellent backdrop for delegates to expand their professional networks, (re)connect with friends and colleagues, take in the stunning scenery, and enjoy Irish hospitality.
Continue reading about this topic